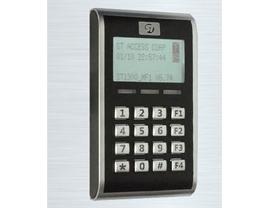 ST Anti cloned Lift Access System
FEATURES ST-1380MF / ST-1300MF
S1, S2, S3 mode switch for different requirement.

144 x 64 LCD Display and 16 keys with White Backlight.

Automatic switch Attendance sections.

16 keys with white backlight.

Built-in 2 relays for open door and external output (24V/5A).

Built-in a reader and an external reader port for exit or anti-pass-back.

Alarm Function is available(tamper, Force entrance, Door open too long, Duress).

Dual function to control Electric locks and setting security machine.

Use Master Card or Master Code to enter edit mode for easy and quickly setting.

Keypad will be locked for 30 seconds while continuous error operation.

Door unlock time setting, latched-on/latched-off or momentary 0.1-600 seconds.

Reading ISO14443a type Mifare smart card serial numbers.

Card can be added/deleted/inquired by key-in or read-learn-in directly or PC/Laptop.

Doors unlock time setting, Latched-on/latched-off or momentary 0.1-600 Seconds.

Individual System Code and Anit-Copy by Mifare Programmer.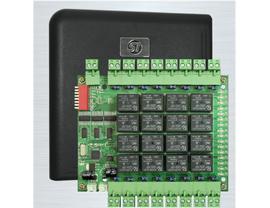 FEATURES ST-FL16
16 sets output , Can choose NO or NC

16 LED, 16 sets control point

Connect with RS485

16 sets control point of floor. It can be simultaneously connected with maximum of 16 elevator controllers for any buildings which exceed 256 floors.
SPECIFICATIONS
Model : ST-FL16(Elevator Controller)
Hand Control : 1 Set hand control
Output : 16 Sets Relay Output (Can be set NO or NC)
Indicators : 16 LEDs
Interface : RS485
Expansion: Max to 256 Floor (16 Controllers)
Waiting time : 0 ~ 255 seconds
Open Period : Each day of a week can set 2 open periods.
Board Dimensions (mm) : 130(H) x 100(W) x 17(D)mm
Box Dimensions (mm) : 305(H) x 245(W) x 120(D)mm
Power Input : 12 VDC
Operating Temperture : -5°C ~ 60°C
Operating Humidity :
5% ~ 95% (Non-condensing)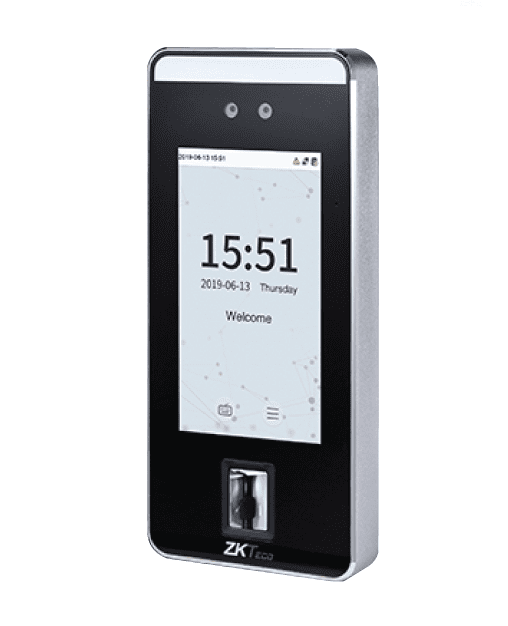 ZKTeco Smart Face Recognition Terminal
Features
• Enhanced Visible Light Facial Recognition
• Anti-spoofing algorithm against print attack(laser, color and B/W photos), videos attack and 3D mask attack
. • Multiple Verification: Face/FingerPrint/ Card/Password
• Supplement light with adjustable brightness
• Recognition distance: 0.3-2m
Recognition distance up to 2m long and extra wide angle recognition The recognition distance has been greatly extended up to 2 meters long, which significantly improves maximum traffic rate. While most of algorithms only support 15-degree angle facial recognition, ZKTeco supports 30-degree angle facial recognition.